Increase the ROI of your lead gen campaign with these proven tips to help you convert leads into customers.
You've invested in a lead gen campaign, and now you have dozens of fresh leads. Congrats! But . . . you're only halfway there. Now you have to turn those leads into customers. Increase the ROI of your lead gen campaign with these proven lead conversion tips.
So, your latest lead gen campaign resulted in a healthy batch of fresh leads – Kudos! Now, what exactly do you do with your list of names and contact information? Those shiny new leads will not translate into tangible business value unless you can convert them into loyal, paying customers.
A successful lead nurturing campaign can move leads through the awareness stage and nudge them closer to a purchase decision at later stages of the customer journey. Quite often, however, that final step in the buyer's journey – conversion – can seem like the most difficult one of all.
To help you optimize the final stage of your sales funnel, we've compiled a list of 10 methods to increase your lead conversion rates and boost your lead gen program's ROI in the process.
Pre-launch: Build the foundation for lead conversion success
At Lead Marvels, we work with marketers of all shapes and sizes, and one thing we've noticed – B2B marketers adept at lead conversion lay the foundation for their bottom-funnel success before their lead generation campaign ever goes live. Our first four lead conversion tips should be executed prior to launch.
1. Capture the right lead information on your landing page.
Creating a content offer for your lead is a game of give and take. In order to access your white paper or guide, prospects need to give you their contact information. Collecting the right information at the start will help you better nurture and, hopefully, convert your lead. Sure, name, email, and telephone are nonnegotiables. However, there are other fields to consider adding to your contact form to help you better filter leads that match your ideal customer profile. Consider adding things like annual budget, company size, and corporate role. Capturing additional key information can help you learn about your leads' decision-making authority and provide insights on the best ways to follow up to increase your chances for conversion.
White Paper:
How to Grow Your Sales Pipeline
2. Add CTAs to your gated content for easy decision making.
Gated content, such as a white paper or a guide, needs to focus on providing value rather than pitching a product or solution. That doesn't mean that some of your leads won't be close to making a purchase decision, however. Within the educational context of your content, be sure that you offer persuasive calls to action (CTAs) so that prospects close to conversion have a clear path to gather more information, either by speaking to a sales rep or by taking another action to collect the information needed in order for a conversion to take place.
3. Automate your lead nurturing campaign.
It can be overwhelming to manually keep up with leads when dozens may be coming in weekly or monthly. Instead, plan out your lead nurturing campaign ahead of time and automate as many steps as possible. If a prospect downloads your white paper, for example, you should have an automated sequence set up to provide ways for them to seek out additional information on the topic. If a prospect clicks on a link to a case study in a follow up email, that may indicate the individual is now ready to speak with a sales rep or at least will be in the near future.
4. Know your leads before passing them to the sales team.
There are two primary ways to classify leads – MQLs and SQLs. It is important to know the difference and be able to locate where each type is on their customer journey. An MQL is a "Marketing Qualified Lead," meaning a prospect that has signed up for one of your content offerings and has just started their customer journey. Generally, MQLs have identified a possible need and are seeking to learn more about the topic and possible solutions. On the other hand, an SQL, or a "Sales Qualified Lead," is researching solutions like the ones you offer and may be close to a purchase decision. Since they are further down in the sales funnel, an SQL is likely to seek out case studies, testimonials, and product reviews. If your lead seeks that type of information, they are an SQL and should be passed to the sales team for immediate follow up.
Post-launch: Convert your leads into loyal customers
Once your foundation has been built and your lead gen program is live, the following are some post-launch tips to boost your conversion rates.
5. Follow up with your leads right away.
Once you know your leads are ready to buy, strike when the iron is hot. Timely follow-ups are one of the best ways to convert leads into customers. However, some sales teams wait days or weeks before they make the initial outreach. If your lead is ready to purchase and you're not there to help, there is a significant chance they will look elsewhere, causing you to lose the sale. Learn how to master the art of the follow-up to stay on top of leads and close more deals.
6. Offer a free trial or product demo.
Quite often a free trial or product demo can provide your lead with the insights they're looking for and give them the nudge they need to make an informed purchase decision. Adding a time-sensitive component to your offer can also drive urgency and increase conversion rates. For example, you could offer an extended trial period or introductory pricing deal valid for only 24 hours. Knowing that the opportunity won't be there tomorrow can motivate some leads to make a purchase decision today.
7. Stay top of mind with your leads until they convert.
Your leads may not be ready to make a purchase decision immediately or even after a few weeks or months. But, that's OK. To stay top of mind, maintain regular contact with your leads until they are ready to buy. However, this doesn't mean pressuring them with repetitive sales calls. Instead, nurture your leads with compelling content that provides value to their businesses. Blog posts, white papers, case studies, and newsletters are excellent options to stay in touch without being pushy. Lead Marvels can help you automate the process with custom email sequences and content writing specifically designed for your sales funnel.
Infographic:
Optimizing the Lead Conversion Process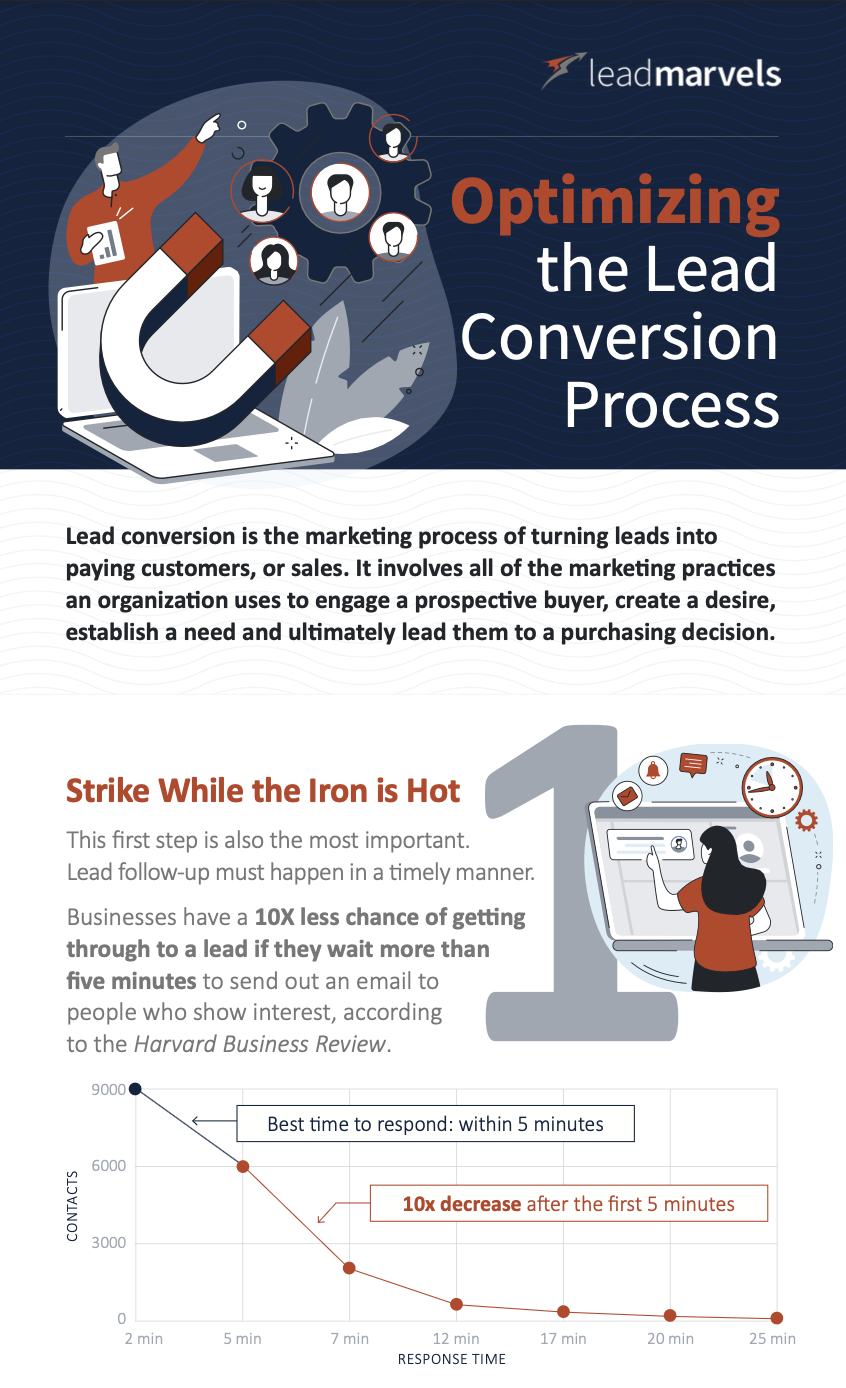 9. Refine as you go.
Lead conversion is a mixture of art and science, and it's important to understand that you're not always going to get it right the first time. But, after a period of trial and error, you will be able to identify what tactics tend to work best to
convert your ideal prospect into your ideal customer
. Evaluate your messaging with A/B testing, and refine your lead nurturing process as you go. Developing tactics that work and eliminating strategies that don't will help you to allocate internal resources more efficiently and increase your lead gen ROI over time.
10. Host a virtual event to drive excitement and build community.
Virtual events, such as lunch-and-learns, webcasts, or social chats, drive interest and build a sense of community. These tactics can enhance your brand reputation and provide another communication channel with your prospects. When hosting a virtual event, make sure you provide value first and pitch your product second. Your focus is to fill in any remaining informational gaps your prospects may need in order to do business with you.
Ready to convert?
The conversion process can be challenging, but remember to be patient, refine as you go, stay top of mind by providing value, and automate as much of the process as possible. Remember, even a modest increase in your conversion rates can increase the return on your lead gen investment and grow your business exponentially.
If you'd like to learn more about how Lead Marvels' lead gen and nurturing capabilities can help you grow your business, visit our free demo page.